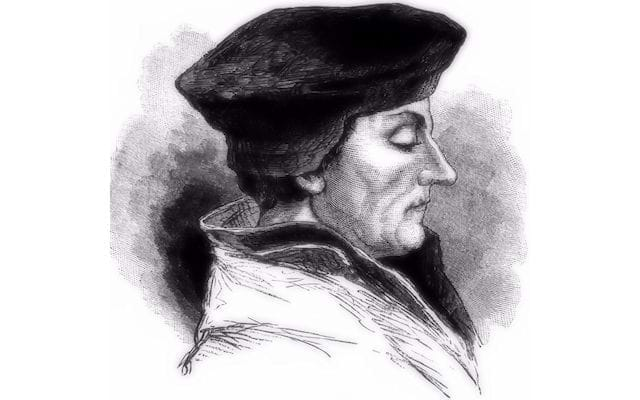 The Real Story of Erasmus and the Textus Receptus
Many critical-text scholars today would have you believe that Erasmus was a little back-water Catholic Priest who only had access to a small handful of manuscripts to write the Textus Receptus. This is a long way from the truth and shameful denigration in a feeble attempt to bolster the lack of integrity in the man-made critical-texts.
Desiderius Erasmus was born in 1466, just 13 years after the Fall of Constantinople. He was orphaned at the age of 9 and was raised in a monastic school run by the clergy. From this point, Erasmus was raised in a world of manuscripts and became proficient in Latin and Greek.
In 1492 Erasmus took his vows as a canon regular at Stein, in South Holland, and was ordained to the priesthood at the age of 25. Soon after his ordination, he was offered the post of secretary to the Bishop of Cambrai, because of his great skill in Latin and his reputation as a man of letters.
He then studied at the University of Paris, in the Collège de Montaigu. The University was then the greatest seat of scholastic learning in Europe. Then he went to England. He studied at Oxford University and his time in England was fruitful in making very powerful lifelong friendships, in the days of King Henry VIII, with leaders of English thought: John Colet (Dean of St Pauls Cathedral), Thomas More (Lord High Chancellor of England), John Fisher (English Bishop and theologian), Thomas Linacre (renaissance humanist scholar and physician) and William Grocyn (lecturer in Greek at Oxford).
He also gained valuable letters of introduction to the Royal Courts of Europe which allowed him access to institutions throughout Europe with biblical manuscripts. Erasmus had mastered the Greek language to the extent that he understood its true worth in theological studies. Erasmus traveled throughout Europe inspecting manuscripts and gathering variants. In Turin, Italy he was examined in theology at Turin's renowned university and obtained his Doctorate of Theology.
Erasmus returned to England and at the University of Cambridge, he was a professor of divinity and stayed at Queens' College, Cambridge from 1510 to 1515. The majority of his work on New Testament Greek variants was collated in this period. When he finally set out to write his Greek New Testament he would only need a base text on which to build the foundation of the Textus Receptus.
Desiderius Erasmus was a renowned scholar and theologian. It was his edition of the Greek New Testament, published in 1516, which became the foundation of the Textus Receptus. He had embarked on his quest to write a parallel Greek and new Latin text to reform the corrupted text of the Catholic church, but it was the Erasmus Greek text which went on to become the foundation of the world's greatest Bibles.
The information supplied on his life and career shows that nobody was more qualified to undertake the task of preserving God's word. He was the right man, at the right time, in the right place.
Little Known Facts About Erasmus
One of the loudest and most insistent criticisms of the King James Bible, is that its Greek Text, the Textus Receptus, is inferior to Alexandrian Greek texts. The attack upon the Textus Receptus centers not on the text itself, but on Desiderius Erasmus. The assumption of these so-called scholars is that, if you can somehow discredit Erasmus, then you can discredit the KJV. These men level their guns at Erasmus, attacking him personally. Then they sit back in smug satisfaction in imagining they have accomplished their goal.
Erasmus Facts:
Erasmus was surrounded with Bible manuscripts from his childhood in the 1460s, until the publication of his Greek Text in 1516. This is over 40 years! He worked for a dozen years on the text itself. "The preparation had taken years" (Durant, p. 283).
As early as 1505, Erasmus wrote to a friend, "I shall sit down to Holy Scripture with my whole heart, and devote the rest of my life to it...[A]ll these three years I have been working entirely at Greek, and have not been playing with it" (Froude, The Life and Letters, p. 87).
He began working directly on the text much before 1507. Froude wrote that years before the text appeared, it was being prepared. "He had been at work over the Greek MSS. for many years. The work was approaching completion" (Froude, The Life and Letters, p. 93).
Frederick Nolan, writing in 1815, states, In addition to the manuscripts which Erasmus owned or had seen himself, he gathered readings from the whole of Europe through his broad friendships. He noted, "I have a room full of letters from men of learning..." "[W]e find by the dates of his letters that he was corresponding at length and elaborately with the learned men of his time on technical points of scholarship, Biblical criticism..." (Froude, The Life and Letters, pp. 377, 394).
While Erasmus was in Italy he spent all of his time "devouring the libraries," states Durant. "[C]omparing two codices...for the more correct reading of some intricate passage" was his passion (Durant, p. 275; Mangan, pp. 275, 91). Erasmus states, "It may easily be guessed how large a part of the usefulness of my work would have been lacking if my learned friends had not supplied me with manuscripts" (Mangan, p. 241).
When he went to Basel to work on the printing of this Greek New Testament, he arrived "weighed down with books...and copious notes on the New Testament" (Rummel, Erika, Erasmus s Annotations on the New Testament, Toronto: University of Toronto Press, 1986, p. 23).
In fact, Erasmus' own manuscript collection was so large and valuable, it was covetously seized by customs when he left England to go to the Continent to finalize the Greek New Testament in 1514. He protested saying that "they had stolen the labours of his life." The manuscripts were returned in a few days (Froude, The Life and Letters, p. 169).
Critics often assert that 'Erasmus did not have the manuscripts we have today.' In fact, he had access to every reading currently extant, and rejected those matching the Catholic Vulgate (and the TNIV, NIV ESV, HCSB, and NASB today).
"It is indisputable that he was acquainted with every variety which is known to us; having distributed them into two principal classes, one of which corresponds with the Complutensian edition, the other with the Vatican manuscript..." "ERASMUS...published an edition, which corresponds with the text which has been since discovered to prevail in the great body of Greek manuscripts" ( Nolan, pp. 413, 419).
Kenneth W. Clark, the scholar who has examined more Greek manuscripts than most, admits, "WE SHOULD NOT attribute to Erasmus the creation of a 'received text,' but only the transmission from a manuscript text, already commonly received, to a printed form, in which this text would continue to prevail for three centuries" (The Gentile Bias and Other Essays, The Erasmian Notes on Codex 2, Leiden: E.J. Brill, 1980, p. 168.)
Erasmus claimed in the preface to have consulted the oldest and best manuscripts... (Hotchkiss, Valerie and Price, David, The Reformation of the Bible & The Bible of the Reformation, New Haven: Yale University Press, 1996, p. 100). He said his text was "solidly based" (de Jonge, Henk J., $Novum Testamentum a Nobis Versum: The Essence of Erasmus Edition of the New Testament,# Journal of Theological Studies 35, October 1984, p. 400). Erasmus suggested that he had consulted many manuscripts (Cambridge History of the Bible, vol. III, p. 60).
Erasmus further verified his Greek New Testament with scripture quotations seen in the writings of early Christian writers. His Greek text is so perfect, because he spent the first fifteen years of his studies almost wholly given to translating the early Christian writers of the first few centuries after Christ. In these writings from the 2nd, 3rd, and 4th centuries, one finds evidence for the Bible's oldest readings. They usually predate, by several hundred years, the Vaticanus and Sinaiticus MSS, from which modern translations get their readings. Froben published Erasmus' work on the 'Fathers,' as a series which included, Cyprian, Irenaeus, Chrysostom, Basil, Ambrose and numerous others. Being a theologian, Erasmus knew the origin of heretical omissions. "[I]n many places the virus still lurked of...Marcion," he noted (Bainton, p. 264).