King James Bible 2016
New Testament
---
9:1
So He got into a boat, crossed over, and came into His own city.
9:2
Then behold, they brought to Him a paralytic lying on a bed. And Jesus seeing their faith said to the paralytic,

"Son, be of good cheer; your sins are forgiven you."

9:3
And, immediately some of the scribes said within themselves, "This Man blasphemes!"
9:4
But Jesus knowing their thoughts said,

"Why do you think evil in your hearts?"

9:5

Because which is easiest to say, 'Your sins are forgiven you,' or to say, 'Rise up and walk?'"

9:6
But that you may know that the Son of Man has authority on earth to forgive sins," then He said to the paralytic,

"Rise up, take up your bed, and go to your house."

9:7
And he rose up, and departed to his house.
9:8
Now when the crowds saw it, they marveled, and glorified God, who had given such authority to men.
9:9
And as Jesus passed on from there, He saw a man named Matthew sitting at the tax office. And He said to him,

"Follow Me."

So he rose up, and followed Him.
9:10
Now it happened, as Jesus sat at the table in the house, behold, many tax collectors and sinners came and sat down with Him and His disciples.
9:11
And when the Pharisees saw it, they said to His disciples, "Why does your Teacher eat with tax collectors and sinners?"
9:12
But when Jesus heard that, He said to them,

"Those who are well have no need of a physician, but those who are sick."

9:13

But go and learn what this means: 'I desire mercy and not sacrifice.' Because, I did not come to call the righteous, but sinners to repentance."

9:14
Then the disciples of John came to Him, saying, "Why do we and the Pharisees fast often, but your disciples do not fast?"
9:15
And Jesus said to them,

"Can the children of the bridechamber mourn, as long as the bridegroom is with them? But the days will come, when the bridegroom will be taken away from them, and then they will fast."

9:16

No man puts a piece of new cloth on old clothing, because, that which is put in to patch it rips away from the clothing, and the tear is made worse."

9:17

Neither do they put new grape juice into old wineskins, or else the wineskins break, and the grape juice spills out, and the wineskins perish. But they put new grape juice into new wineskins, and both are preserved."

9:18
While He spoke these things to them, behold, a certain ruler came, and worshiped Him, saying, "My daughter has just died, but come and lay Your hand upon her, and she will live."
9:19
So Jesus rose up, and followed him, and so did His disciples.
9:20
And, suddenly a woman, who had a discharge of blood for twelve years, came from behind Him, and touched the edge of His clothes.
9:21
Because she said within herself, "If only I may touch His clothes, I will be made well."
9:22
But Jesus turned around, and when He saw her, He said,

"Be cheerful daughter; your faith has made you well."

And the woman was made well from that hour.
9:23
And when Jesus came into the ruler's house, and saw the musicians and the people making a noise,
9:24
He said to them,

"Make room, because the girl is not dead, but is sleeping."

And they laughed and mocked at Him.
9:25
But when the people were put outside, He went in and took her by the hand, and the girl arose.
9:26
And the fame of this went out into all that land.
9:27
And when Jesus departed from there, two blind men followed Him, shouting, and saying, "You, Son of David, have mercy on us!"
9:28
And when He had come into the house, the blind men came to Him. And Jesus said to them,

"Do you believe that I am able to do this?"

They said to Him,

"Yes, Lord."

9:29
Then He touched their eyes, saying,

"According to your faith let it be to you."

9:30
And their eyes were opened. And Jesus firmly warned them, saying,

"See that no one knows it."

9:31
But when they had departed, they spread the fame about Him in all that country.
9:32
As they went out, behold, they brought to Him a mute man possessed with a demon.
9:33
And when the demon was cast out, the mute spoke. And the crowds marveled, saying, "It has never been seen like this in Israel!"
9:34
But the Pharisees said, "He casts out demons by the ruler of the demons."
9:35
Then Jesus went about all the cities and villages, teaching in their synagogues, preaching the gospel of the kingdom, and healing every sickness and every disease among the people.
9:36
But when He saw the crowds, He was moved with compassion for them, because they were exhausted, and scattered everywhere, like sheep having no shepherd.
9:37
Then He said to His disciples,

"Truly the harvest is plentiful, but the laborers are few."

9:38

Therefore pray the Lord of the harvest that He will send out laborers into His harvest."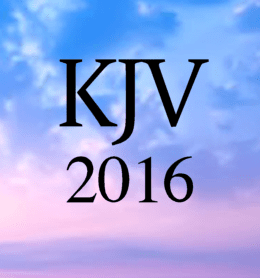 King James Bible 2016
Unlike most other modern versions, this Bible's text is based upon the same Hebrew Masoretic Text, and Greek Textus Receptus, of the King James Version of 1611.
In non Textus Receptus versions, the issue of having the best underlying manuscripts, is often overshadowed by the massive amount of omissions in the text. Because the KJV 2016 is not dealing with issues of omission and addition, the focus has been upon definition, and the KJV translators choices have been used as the benchmark.
One issue not often majored upon in the bible version debate is simply the way Greek words are defined. Many times, the NKJV leans upon the definition choices of modern versions as well as defaulting to Vines and Strong's definitions, which are almost always favorable to the Revised Version. In other words, one may have a correct text to translate from, but use erroneous modern version/modern dictionary definitions which change or distort the meaning of the words. Jay Green was accused of having a good TR bible but with "Alexandrian readings".
The KJV 2016 Edition rejects such erroneous modern definitions and restores the distinctness of historical KJV readings. The NKJV also tended to gravitate toward KJV marginal notes, which are in truth, rejected readings, and also toward Geneva Bible definitions, which the KJV had already cleared up.
The King James Version 2016 Edition is copyright 2016, only to protect it from being stolen and resold for profit. All Rights reserved. Further details